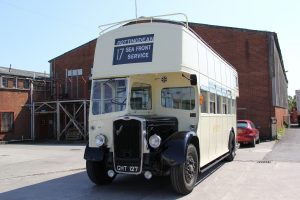 Click here to view more photos of GHT 127.
This bus was new in wartime to Bristol Tramways and Carriage Co. Ltd. and entered service in March 1941 from (we believe) Lawrence Hill depot. Its body was given a major overhaul by Bristol Tramways & Carriage Co. Ltd. in 1951 and it was sold out of service by the end of 1954, when it passed with several others to Brighton Hove & District. They converted it to open top, and subsequently repainted it in a cream and black livery.
It later passed to Thomas Bros. Port Talbot, South Wales and received a blue and cream livery. It then passed back to Bristol Omnibus Co. It has since been painted in Tilling green and cream (1975), original Bristol blue & white livery, cream and green Bath open-top livery (1985) and in Guide Friday's version of its livery.
During 2004 the Group restored it an repainted it in 1955 Brighton, Hove and District Livery.
Technical stuff:
Manufacturer:  Bristol Tramways & Carriage Co
Type:  K5G
Chassis No:  53.001
Registration No: GHT127
Date of first registration: March 1941
Fleet No: C3315 (BT&CC)
                  5992 (Brighton, Hove & District)
                  992 (Brighton, Hove and District)
                  "Sandfields Belle" (Thomas Bros)
                  8583 (Bristol Omnibus)
Engine: Gardner 5 cylinder
Body manufacturer: Eastern Coachworks
Body Number: 6529 series 1
Seating (originally): O33/26R
Original operator: Bristol Tramways
Withdrawn: December 1954
Subsequent owners:  
Brighton, Hove & District Jan 1955.  Withdrawn September 1964

North, Leeds (dealer) September 1954

Thomas Bros, Port Talbot March 1965 to August 1969

Bristol Omnibus Co. December 1969.  Withdrawn August 1976.  Reinstated March 1978, withdrawn September 1979.

Bristol Omnibus Preservation Society, October 1979

Badgerline, December 1985

Bristol Vintage Bus Group August 2003.
Livery:  Brighton, Hove and District