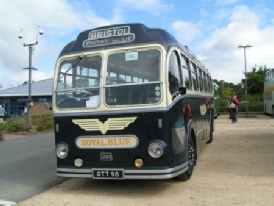 Click here to view more photos of OTT 98
OTT98 (1299) is a Bristol LS6G with ECW bodywork.  The bus is part of the WHOTT Museum collection and its custodian is our member John Grigg.
The vehicle was new to Southern National Omnibus Company (Royal Blue) in September 1953.  It was withdrawn in 1970.
Technical stuff:
Manufacturer:  Bristol Commercial Vehicles
Type:  LS6G
Chassis No:  97089
Registration No: OTT98
Date of first registration: 14th September 1953
Fleet No: 1299
Engine: Gardner 6 cylinder
Body manufacturer: Eastern Coachworks
Body type: C41F
Body Number: 7086 series 2
Rebuild: Interior renovation and reseating by ECW to C39F, October 1961.  Rebuild number R795
Original operator: Southern National (Royal Blue)
Withdrawn: April 1970
Subsequent owners:
North, Sherbun in Elmet (dealer) April 1970

H&C, Garston, June 1970

Dorset Transport Circle, December 1972

West Country Historic Omnibus and Transport Trust, February 2007
Livery:  Royal Blue