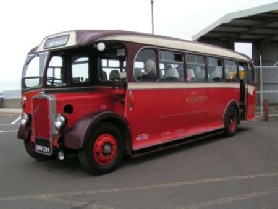 Click here to view more photos of EMW 284.
The chassis was new to Wilts and Dorset Motor Services in 1947, but a body wasn't fitted until 1949.  It remained in service with Wilts and Dorset until 1962, before  being used by Enham Alamein Disabled Village at Andover and then passing into preservation.  Its current owner bought the bus in 1983.
The bus was repainted at the start of 2012 and has since had its seats re-upholstered and internal flooring replaced.
Technical stuff:
Manufacturer:  Bristol Commercial Vehicles
Type:  L6B
Chassis No:  65.089
Registration No: EMW284
Date of first registration: 1949
Fleet No: 279
Engine: Bristol 6 cylinder
Body manufacturer: Beadle
Seating: C32R
Original operator: Wilts and Dorset
Withdrawn: 1962
Subsequent owners:  
Enham Alamein Disabled Village, Andover

Salisbury Preservation Group

Lionel Tancock, 1983
Livery:  Wilts and Dorset