The Group was founded in 1972 and from small beginnings has built a large collection of buses, mainly of types built and/or used in Bristol.  The collection is still growing today.
It all started in March 1972 when our three founder members, Dave Withers, Phil Sposito and the late Roy Gingell collected our Leyland Titan PD1 LAE13 from Stoneman of Nanpean near St Austell in Cornwall.  Even when purchased, the combination of Leyland PD1 chassis and highbridge ECW body was rare, and is now thought to be unique.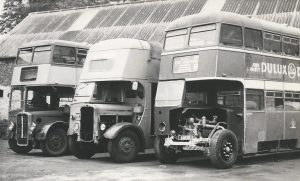 Apparently the restoration of LAE13 was not found to be much of a challenge to our intrepid preservationist as the next project was soon underway and was certainly  not for the faint-hearted.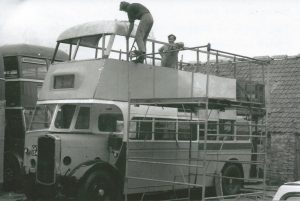 GHT154 was acquired in May 1973 from the West of England Transport Collection at Winkleigh in Devon. As purchased, this former Bristol City Services bus had been modified for use as a showman's van and had no staircase. The roof had been lowered and the rear cut out to make a pair of double doors. The mammoth task of restoration took nine years.
Later in 1973 the group purchased FTT704 from Alan Bailey of Axe Vale Coaches at Biddisham in Somerset.  The bus had been left at Axe Vale's garage after a head gasket had blown and was never collected by its previous owner. After a new gasket was fitted in the rain, FTT was bump-started and driven back to Saltford which was our first base (on a chicken farm).
Several other vehicles have passed through our hands since then, but AHU803 purchased from Nailsworth Boys Club in June 1978 was to be another of our big projects.  After a total reconstruction which took 20 years, it was completed in July 1998.
The group moved from the chicken farm to the goods shed at Yate railway station in September 1981. This was our first under-cover accommodation, which made a big difference to our work.
A setback in March 1986 was the death of Roy Gingell who as mentioned above was one of the founders and a respected preservationist, being not only an excellent PSV driver but one of those people able to turn his hand to most tasks including a bit of woodwork, painting etc.
Later we were joined by Ted Amos who had two vehicles, LHT911 "Daisy", and the MW coach BHU 92 C "Clarence".
The next event was our move to our current premises in Flowers Hill in February 1993. A second setback came in July 1996 when Ted Amos died. He was another well-respected preservationist whose expertise was invaluable.
Since then other new vehicle-owning members have joined, bringing with them many other buses, and the Group's own collection has expanded with the temporary loan of GHT127 by First Group, the purchase of HHW920L and the donations of J858FTC by David Cole and L503VHU by First Group.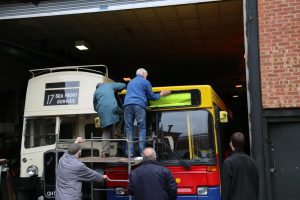 Words by Phill Sposito & Dave Withers