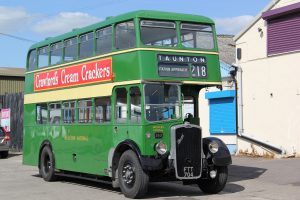 Click here to view more photos of FTT 704.
FTT704 was used by Western National at their Totnes Depot for most of its life with that company. It was one of a batch of five Bristol K6As, fitted with Strachan lowbridge utility bodies, and delivered in 1945.
In 1955, the utility body was removed, the chassis renovated and the older shield-shaped KV radiator replaced by one of the PV2 type. The new ECW body was one of the last traditional lowbridge bodies manufactured by the coachbuilders.
FTT704 was collected from Axe Vale Coaches' yard in October 1973 where it had been left by a preservationist after a head gasket had blown. A new head gasket was fitted at the yard, the vehicle was then bump-started and driven back to Bristol and it has been with the BVBG ever since.
Technical stuff:
Manufacturer:  Bristol Tramways & Carriage Co
Type:  K6A
Chassis No:  WI132
Registration No: FTT704
Date of first registration: 1945
Fleet No: 353
Engine: AEC 6 cylinder
Body manufacturer: Strachan (original body), Eastern Coach Works (current body)
Seating (originally): L27/26R
Seating (current body): L28/27R
Original operator: Western National
Withdrawn: November 1968
Subsequent owners:  
North, Sherburn in Elmet, (dealer), November 1968

HFJ Cheek, Bushey, Herts, September 1969

P Webb, Reading (preservation) February 1972

A Bailey, Biddisham, Somerset, 1973

Bristol Vintage Bus Group October 1973.
Livery:  Western National