Leyland Lynx MOT repairs
The recent mot test for F611RTC brought to light that rubbers on 611's ball joints had perished so a new set has been ordered and fitted.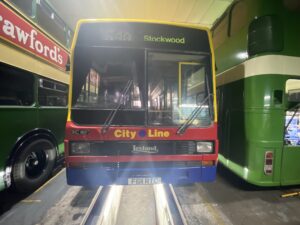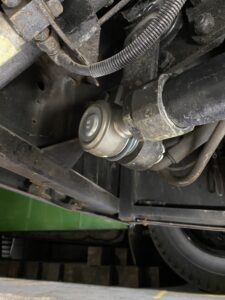 LAE 13 Recent progress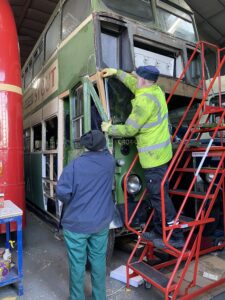 Work has continued this winter on the leyland including much work to the upper deck trim. the radiator has been removed, fitted with a replacement core and refitted to the bus, this was no easy task in the absence of the much fabled Leyland "wangle spanner". The cab has been jacked up and now supports its own weight. Even the engine has been heard running for the first time in a good number of years..
KHU323P's New chassis rail.
Upon close inspection of KHU323P's chassis, it was clear that there was some work needed to the Near side chassis rail. After some searching a company was found that would produce a new chassis rail.  The new piece of chassis has been fitted and welded into place, the whole chassis has received a fresh coat of paint and is looking very smart. Next on the list is to remove the rear springs for a new set to be made and fitted.
BVBG's October mini running day.
The Mini running day at BVBG's HQ showed  a rather popular event where not only BVBG's vehicles were on display, .
1940's weekend at Avon Valley Railway.
Various different vehicles helped out at this event providing a free shuttle service from Avon Valley Railway's site across to the Warmley signal box  and from the visitors car park to the Avon Valley Railways site.
Bristol Doors Open Day.
L503VHU and VDV753 helped out during Bristols Doors Open Day by providing a shuttle service to and from Flowers Hill and Bristols City Centre.