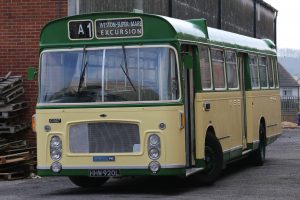 Click here to view more photos of HHW 920L.
HHW920L was new to the Bristol Omnibus Company in December 1972.  Its chassis was built by Bristol Commercial Vehicles and it then went to Eastern Coachworks in Lowestoft to have its body fitted, returning on a miserable December day to Lawrence Hill depot, where our Chairman, Dave Withers happened to be taking snaps that day (see right).
It was given the fleet number C1307.  At the time the company painted one-person buses in a different livery, in which the cream colour was much more dominant.  It remained with the company until it was withdrawn from service in 1986.
It then spent a little over a year with Cumberland Motor Services before moving on again to CityBus in Belfast until 1991.  After that it spent three years with the Northern Bus Company before entering preservation in 1994.  In 1997 it was sold to Bristol operator ABus, who used it once more in service in its home city until late 2000.  It then returned to preservation in the care of Ian Hudd who undertook major works to the engine and repainted it into its original colours.  After a brief return to ABus, it is has been part of the BVBG fleet since 7th April 2013.
Technical stuff:
Manufacturer:  Bristol Commercial Vehicles
Type:  RELL6L
Registration No: HHW920L
Date of first registration: December 1972
Body manufacturer: Eastern Coachworks
Engine: Leyland  
Original operator: Bristol Omnibus
Fleet number: C1307
Livery: Bristol Omnibus one-person operation livery
Withdrawn: 1986
Subsequent owners:
Cumberland Motor Services

CityBus (Belfast)

Northern Bus Co.

Preservation 1994

Abus 1997

Ian Hudd (preservationist) 2000

BVBG 7

th

 April 2013