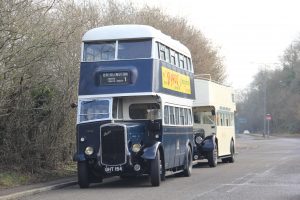 Click here to view more photos of GHT 154
The bus was one of 271 buses supplied to Bristol Tramways and Carriage Co. Ltd. during 1938-1941 to replace Bristol's trams.  It was allocated mainly to Lawrence Hill depot, and was withdrawn in 1953.
It was sold to Joe Brewer, a travelling showman, who converted it in 1954 to a van, removing the stairs, and lowering the roof to the upper deck windowsill level.  He had a small living section at the front and also fitted a second gearbox and generator for producing the electricity used by his arcade. He used the vehicle in this form to carry slot machines and the associated arcade. It continued in this condition for 18 years operating from Mr Brewer's base at Crediton.
It was purchased by the Bristol Vintage Bus Group in May 1973 with a view to reconstruction back to its original condition. A body of a similar vehicle, GHT 141, was in use as a store shed by Malpas of Bristol, a building contractor at Oldbury Court, and this was purchased in May 1973 to provide the parts required for this mammoth project which took 8 years to complete. Seats were acquired from a sports pavilion in Clevedon.
Technical stuff:
Manufacturer:  Bristol Tramways & Carriage Co
Type:  K5G
Chassis No:  53.035
Registration No: GHT154
Date of first registration: November 1940
Fleet No: C3336
Engine: Gardner 5 cylinder
Body manufacturer: Brislington Bodyworks
Seating (originally): H30/26R
Original operator: Bristol Tramways
Withdrawn: September 1953
Subsequent use: showman's vehicle 1954 – 1972
Subsequent owners:  
J Brewer, Crediton 1954

West of England Transport Collection, September 1972

BVBG, May 1973
Livery:  Bristol Tramways blue and white