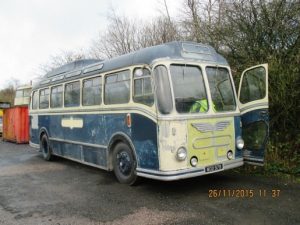 Click here to view more photos of MOD 978
MOD978 (1291) is a Bristol LS6G with ECW bodywork.  The coach is owned by member John Grigg.
1291 was delivered to Southern National in Royal Blue livery and entered service from Bournemouth depot on 22 August 1952.
The bodywork renovated at ECW in Lowestoft in March 1960, with ECW rebuild No R749.
The coach was withdrawn from Royal Blue service in spring of 1968 following delivery of the first batch of semi-automatic Bristol RELH coaches, and sold to North (dealer) along with 7 other identical coaches in July 1968. 1291 was then sold to Emmerson of Immingham who operated her until April 1969, when she was sold on to Rennison of Stockton on Tees, remaining in service until January 1972.
1291 was then sold to Beeline of West Hartlepool in a part exchange deal where she languished until acquired by the North East Preservation Group in April 1976.  By December of that year 1291 had again been sold,  this time to Eastern National Preservation Group at Chelmsford.  She was sold on again in 1983 and in the last quarter of a century has passed through the hands of several "enthusiasts" during which time
little restoration work appears to have been undertaken and little has been seen of the coach on the rally circuit.
Any information which you may have concerning 1291's depot allocations during her Royal Blue service years or any other details will be gratefully received at webmaster@bvbg.org.uk
John bought 1291 in October 2007, and it was moved to Maidenhead by low loader on 11 November 2007, so that work on the Gardner 6HLW engine, the cooling system, and rewiring the electrical system could commence.
Sufficient progress was made that in May 2009, 1291 was moved closer to Bristol and the extensive work necessary on both the body and the interior could begin.
Technical stuff:
Manufacturer:  Bristol Commercial Vehicles
Type:  LS6G
Chassis No: 89.103
Registration No: MOD978
Date of first registration: 20th August 1952
Fleet No: 1291
Engine: Gardner 6 HLW
Body manufacturer: Eastern Coachworks
Body type: C41F
Body Number: 6292 series 2
Rebuild: Interior renovation and reseating by ECW to C39F, March 1960.  Rebuild number R749
Original operator: Southern National (Royal Blue)
Withdrawn: 1968
Subsequent owners:
North, Sherbun in Elmet (dealer) July 1968

Emmerson, Immingham

Rennison, Stockton on Tees, April 1969

Beeline, West Hartlepool, January 1972

North East Preservation Group, April 1976

Eastern National Preservation Group, December 1976

Various owners from 1983 onward
Livery:  Royal Blue