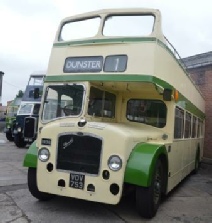 Click here to view more photos of VDV 753.
VDV753 was new (complete with a roof) to Western National Omnibus Co. In December 1957.
It operated with Western National until May 1979, and during its life with the company was converted to open-top in May 1973.  After being lent to Eastern Counties for a few months it was sold to them in Mary 1979 and remained with them until May 1987.
It then went into preservation, before being bought by Quantock Motor Services in October 2009.  They used it in service on the "Exmoor Explorer" route until 2011.  
It was bought by the Bristol Vintage Bus Group in December 2014 and arrived at our base in January 2015.
Technical stuff:
Manufacturer:  Bristol Commercial Vehicles
Type:  LDL6G
Chassis No:  134104
Registration No: VDV753
Date of first registration: December 1957
Fleet No: 1936
Engine: Gardner 6LW
Body manufacturer: Eastern Coachworks
Body type: H33/27RD until 1973, then O33/27RD
Body Number: 9578 series 2
Original operator: Western National
Withdrawn: 1979
Subsequent owners:
Eastern Counties

Roberts

Quantock Motor Services
Livery:  Western National